Frequently Asked Questions
How do I sign in?
Go to portal.mcoe.org -> Click the button that says "Sign In with Google"
I forgot my password. Can you reset it?
Teachers will need to contact their district IT to have them assist with the Google password.
Why can't I book items on Insignia?
Only teachers have access to Insignia. Insignia has a pop-up for logging in. You will need to look in the URL bar and see if it is blocking the pop-up. If so, you will need to allow all pop-ups from Insignia. Once you do that you can then click on the "Login" button on Insignia. Give it a few seconds and it will log you in using your Google information. You will then be able to book items once you are logged in. PDF Instructions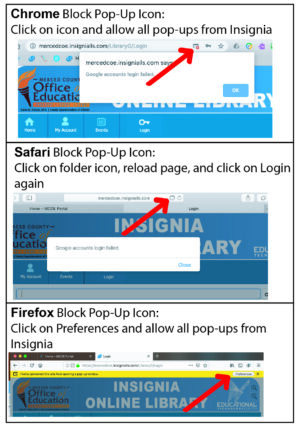 I clicked on the California Streaming icon and it doesn't have me logged in.
Please let us know. We will need to make a correction on our end due to some hiccups we encountered from the migration to the new Portal site.
I signed into Nearpod with my Google account, but some of the items want me to pay for it.
Nearpod is only available to schools that subscribe to it. We will need to add you to the district group so you have full access if under one of these schools. Please let us know so we may correct this.
Do I have full access to a website under the resource tab?
Websites under Resources have been vetted for student privacy and have free content available. However, the California State Library has subscribed to three databases that the full state has access to: ProQuest, TeachingBooks, and Encyclopedia Britannica. Access is granted through the Portal, and questions may be sent to LaRae Demorest at Ldemorest@mcoe.org or 381-6630. If your school subscribes for BrainPOP then you will need to go back to the "Home" page and click on it there to log in.
What is MCOE's privacy policy for students using the Portal?
Please review the policy and exhibit:
Policy
Exhibit
Updated: 9/5/2019